When do Boris Johnson's 'gaffes' become a liability for the PM? UK goes taugh on Saudi Arabia…
Shock, horror, scandal. Britain's chief diplomat speaks truths about the Middle East.
Whatever next?
Most of what Boris Johnson said in his latest alleged 'gaffe' is not that controversial.
It is the reaction from Downing Street that makes this a much stronger story.
The Prime Minister has distanced herself from her own Foreign Secretary.
"These are the Foreign Secretary's views," said her spokesman. "They are not the Government's views on Saudi Arabia and its role in the region."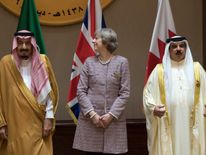 When a Foreign Secretary cannot be relied upon to get things right about one of the country's closest strategic allies, he becomes a liability to a Prime Minister – and the media starts to wonder if his future is in doubt.
"There are politicians who are twisting and abusing religion and different strains of the same religion in order to further their own political objectives," said Mr Johnson.
He does not specify Saudi Arabia in this respect or any other country, but is speaking more generically.
The claim is uncontroversial. Religion is used and abused for political ends by politicians across the Middle East. It is a fact of life in the region.
"There are not enough big characters, big people, men or women, who are willing to reach out beyond their Sunni or Shia or whatever group to the other side and bring people together and to develop a national story again."
Another fair point. Where are the Begins, Sadats, Rabins of today? Even if the turmoil of the region post-Iraq War and Arab Spring is hardly conducive to charismatic peacemakers rising to the leadership roles.
This is more controversial.
It is not the official position of the British Government to brand its closest strategic ally in the region, Saudi Arabia, a puppetmaster, nor Syria's rebels puppets.
Defending the Foreign Secretary, Foreign Office sources pointed out this was not an official policy speech but off-the-cuff remarks as part of a panel discussion about migration.
Others defending the Foreign Secretary will say that it is about time the UK spoke some home truths about its Middle Eastern partners and asked what decades of softly-softly diplomacy have actually achieved.
But if Boris Johnson is deliberately embarking on a new blunter kind of diplomacy he needs to be consistent with the rest of the Government.
:: Boris Johnson's 'gaffes' as Foreign Secretary so far…
His comments come while his boss, Theresa May, has been in the Gulf assiduously courting its leaders, including dining with the leaders of Saudi Arabia and neighbours.
Branding them puppetmasters is not on the message. The Prime Minister has already distanced herself from her own Foreign Secretary on his comments.
Given that backdrop, the Foreign Secretary's comments seem clumsy and ham-fisted even if there are plenty of people who will say they are simply spelling out the obvious.
When Mrs May appointed Mr Johnson as her chief diplomat she was presumably not expecting a quiet life on the diplomatic front.
But she will know the press is beginning to smell blood on the trail of Mr Johnson.
His transition from newspaper columnist to diplomat has been littered with alleged missteps.
This means his every word is scrutinised, and borderline contentious comments become blown up into headlines about yet another 'gaffe'.
Mr Johnson has always had an uncanny ability to deflect controversy and scrutiny, but even he will know that a gaffe-prone politician is a liability to any government, and a gaffe-prone Foreign Secretary can be a liability to national interests.
That is far more serious.
Source :
You may also like...