Beijing talks up case for intervention in Hong Kong, labelling protests 'colour revolution'
Xinhua moves from previous comparisons with 'colour revolution' to directly giving the protests that description
It quotes late leader Deng Xiaoping as having said Beijing 'should intervene' if there were turmoil in Hong Kong
Topic |   
Hong Kong extradition law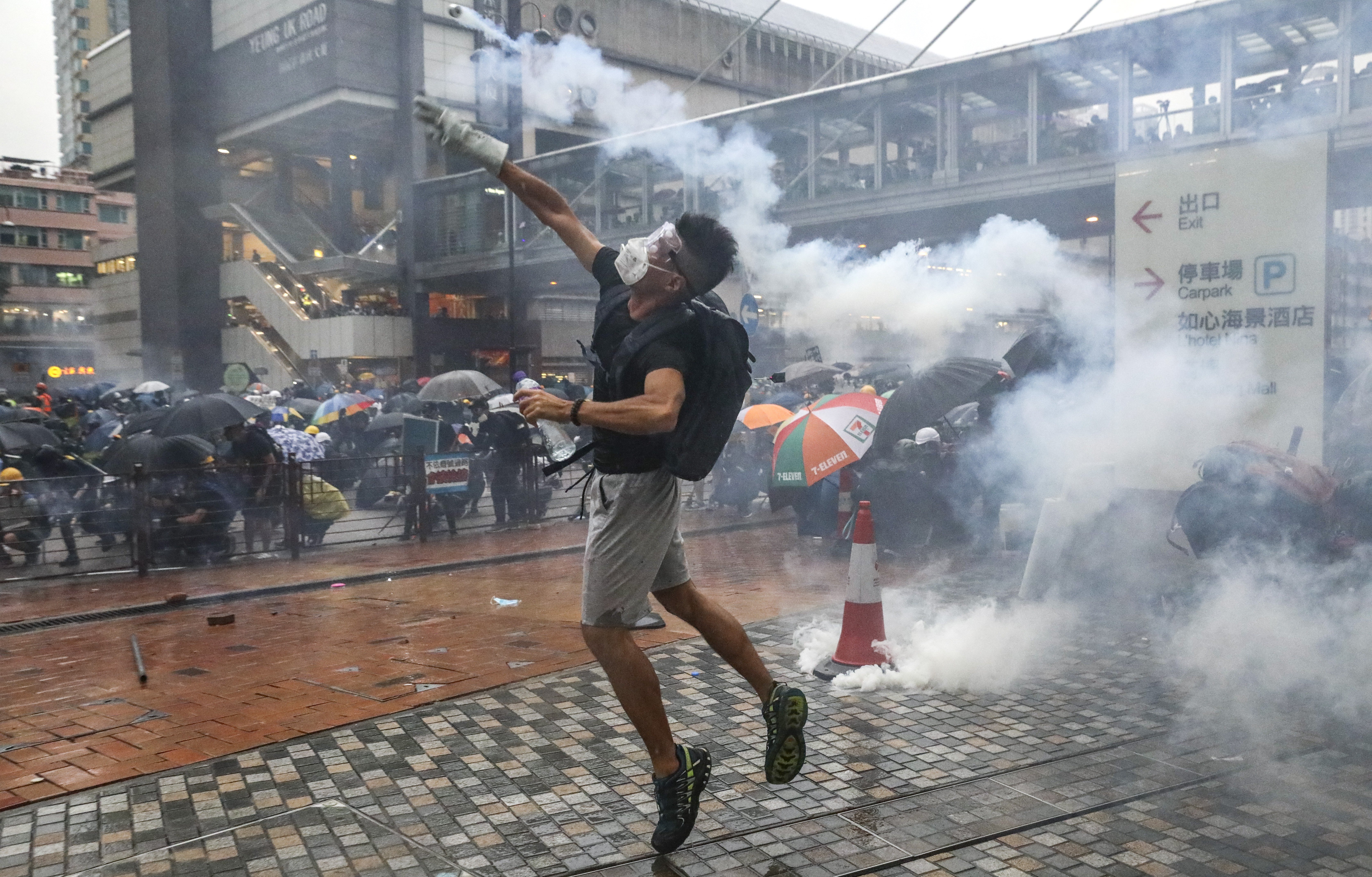 Beijing has sent its strongest warning yet that it could deal directly with the protests in Hong Kong, calling them "colour revolutions" and amplifying warnings from senior advisers that the city is engulfed in a battle that would defend or destroy "one country, two systems".
In a commentary published on Sunday night, state news agency Xinhua also quoted late Chinese leader Deng Xiaoping as having said in 1984 that the mainland government "should intervene" in the event of unrest in the city.
The commentary was a shift from previous state media tirades that compared the Hong Kong protests to a color revolution. to directly apply the label – widely used to refer to uprisings in countries in eastern Europe in the early 2000s – to the unrest.
The agency also echoed a speech  given at the weekend by Xu Ze, head of the semi-official Chinese Association of Hong Kong and Macau Studies and a former deputy director of the Hong Kong and Macau Affairs Office – China's top Hong Kong policy office. Xu said Hong Kong risked "sinking into an abyss", and described the unrest as "a decisive battle between defending or destroying 'one country, two systems'".
Xinhua's commentary said: "The recent [events] in Hong Kong … have gone beyond normal demonstrations and rallies, and were 'colour revolutions' meant to fundamentally destroy constitutional law and order of the [Hong Kong] special administrative region. We cannot condone [such acts] and they must be dealt with in accordance with the law."
It quoted Deng as saying that "if there is turmoil [in Hong Kong], the central government should intervene".
It was referring to Deng telling a Hong Kong and Macau delegation in 1984 that "some people are worried about intervention".
"Some interventions are necessary," Deng said. "It depends on whether these interventions are beneficial to the interests of Hong Kong people, to the prosperity and stability of Hong Kong. It now appears that Hong Kong will spend 13 years in an orderly manner from now to 1997. After 13 years, there will be an orderly 50 years. I am confident in this."
He went on to say: "If there is turmoil, the central government should intervene."
Sunday's Xinhua commentary added: "Hence, it is clearly stipulated in the Basic Law [Hong Kong's mini-constitution] and the Garrison Law, and it's not only the authority of the central government but also its responsibility."
The news agency published the article to commemorate Deng's meeting 40 years ago with Hong Kong's then governor Murray MacLehose to discuss the city's future, when Deng first spoke about the concept that became one country, two systemes – the principle under which Hong Kong was returned to Chinese rule in 1997 but retained certain freedoms.
The commentary coincided with a 12th successive weekend of anti-government protests in Hong Kong as violent scenes returned after a calmer mood the previous week. The protests were triggered in early June by a since-abandoned extradition bill that would have allowed the transfer of criminal suspects to jurisdictions including mainland China, where critics say there is no guarantee of a fair trial.
Xu had said in his speech on Saturday at a seminar in Shenzhen, near the Hong Kong border: "The violent activities happening in Hong Kong have undermined the fundamental interests of Hong Kong and our country, and they have been going on for a period of time.
"If we allow them to spread and develop, Hong Kong faces the risk of sinking into an abyss.
"It is also no exaggeration that this has become a decisive battle between defending or destroying one country, two systems," he said at an event organised by the Chinese Association on Hong Kong and Macau Studies.
China's state media has stepped up its attacks on the Hong Kong protests this month, with recent articles criticizing.  including Hong Kong's former chief secretary Anson Chan Fang On-sang, former lawmakers Martin Lee Chu-ming and Albert Ho Chun-yan, and media tycoon Jimmy Lai Chee-ying for "bringing ruin to Hong Kong".
Xinhua continued its attacks on Lai on Monday, blaming him for "blatantly inciting Hong Kong's subversion against China".
Wang Zhenmin, the former legal chief of Beijing's liaison office in Hong Kong, also spoke at Saturday's seminar in Shenzhen, warning of "dire consequences" for the city if one country, two systems fell apart.
Maria Tam Wai-chu, a deputy chairwoman of the Basic Law Committee – under the Standing Committee of China's legislature, the National People's Congress – has said that one country, two systems, with the high level of autonomy it guaranteed for Hong Kong, did not prevent the Beijing government from intervening.
How storm over Hong Kong extradition bill battered Beijing's Taiwan hopes "Chaos is happening in Hong Kong, and the central government of course can intervene," she reportedly said. "Intervention would be to bring [the city] back to order and get one country, two systems on the right track."
Despite the strongly worded rhetoric, a scholar familiar with Hong Kong affairs said Beijing had yet to decide that it was time to mobilise its military to resolve matters in Hong Kong, which would be only a last resort if all other options failed.
Tian Feilong, a Hong Kong affairs expert at Beihang University in Beijing, described the latest Xinhua commentary as tentative and not Beijing's final decision.
"The seriousness of the situation has not reached the level that requires direct military intervention by the central government," he said. "The [Hong Kong] government has many other means that have not been used, such as declaring martial law. We also haven't seen Hong Kong courts' sentences for people on riot charges.
"When the rights [of the Hong Kong government] have been fully exercised but it still can't stop the riots, the central government will take actions. The final decision to intervene also needs a resolution from the Standing Committee of the National People's Congress to authorise it."
Source :
You may also like...