China's underwater drones seized in Indonesia. What to expect?
Kristin Huang
Four years ago, China seized a United States underwater vehicle suspected of spying in the disputed South China Sea and criticised the US for "close-up reconnaissance activities against China".
Now, the tide has turned. China's neighbour Indonesia has found three Chinese underwater drones, the latest discovered in late December near South Sulawesi's Selayar Island.
The UUV found in South Sulawesi was 225cm long, had a wingspan of 50cm and had a trailing antenna. Photo: Twitter@Jatosint
Malcolm Davis, a senior analyst in defence strategy at the Australian Strategic Policy Institute, said it was significant this glider was recovered in the Sunda Strait, which is one of the key maritime straits that could accommodate China deploying submarines into the Indian Ocean while submerged.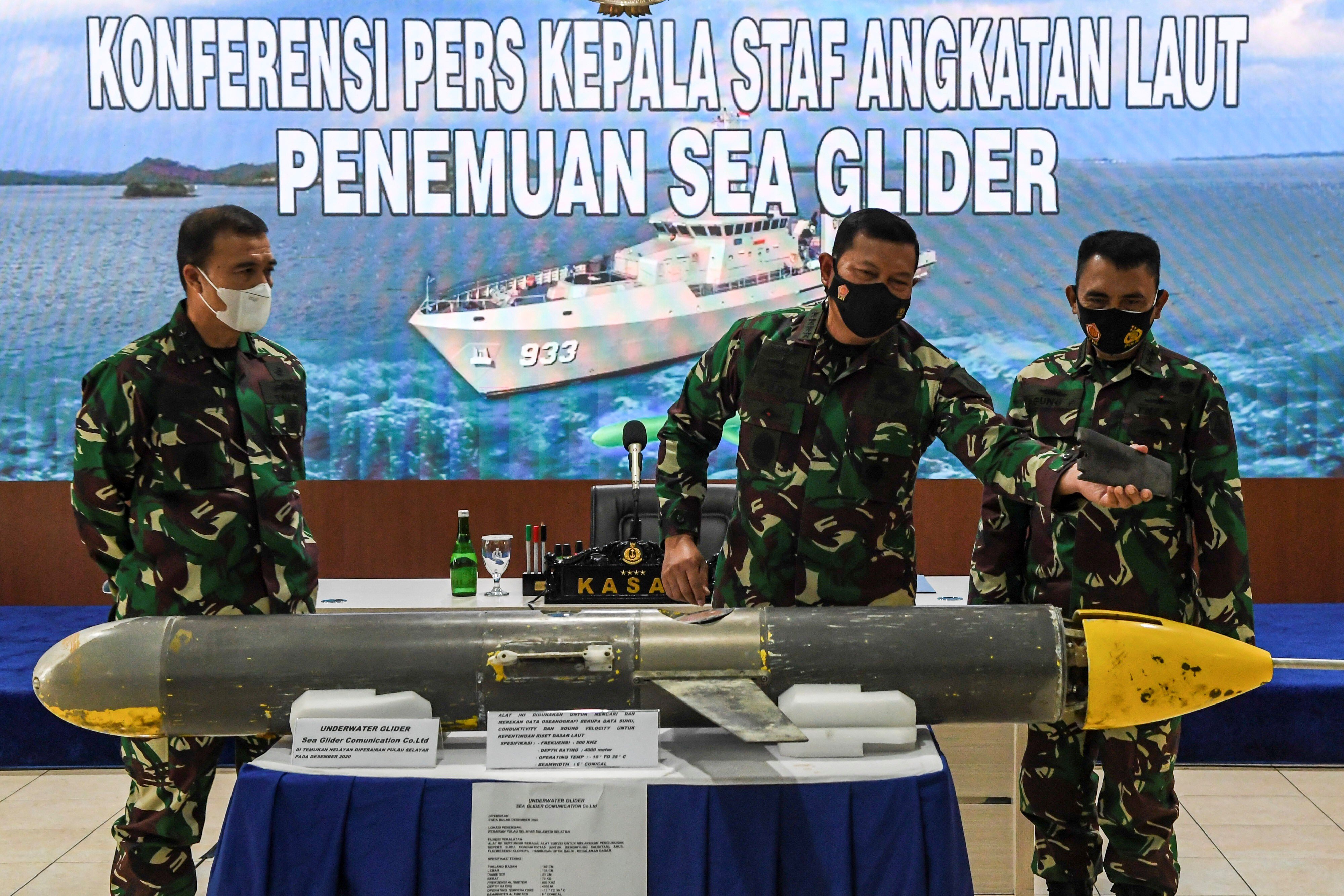 "The glider would be taking sonar soundings of the ocean bottom to get an accurate bathymetric map of the sea floor, as well as using sensors to understand thermal conditions within the water, and acoustic conditions, so as to give PLA Navy submarines the best chance for traversing the Sunda Strait without being detected," Davis said.
"By deploying these gliders in these locations – even if they are in the waters of foreign states – China can ensure their submarines are best able to deploy from the South China Sea into the Indian Ocean, or against Australia's north and western maritime approaches in a future conflict."
A UUV is a robot that travels underwater to gather oceanographic data such as seawater temperature, salinity, turbidity and chlorophyll and oxygen levels without input from an operator. UUVs can help understand the undersea environment to support future operations by submarines, and are of high interest to navies around the world.
The Chinese drone fleet was deployed by the specialist survey ship Xiangyanghong 06 on a winter survey mission for the Joint Ocean and Ecology Research Project run by China's Ministry of Natural Resources, according to an article in Forbes by defence analyst H.I. Sutton.
Analysts said the discovery of Chinese UUVs revealed how much progress China had made in developing the devices and how it was preparing for a new front in warfare – underwater.
"The presence of the UUVs indicate that China is deploying submarines in those areas. Most likely, this would be for purposes of intelligence gathering and to improve the submarine's ability to fight, if necessary, in those waters," said Timothy Heath, a security expert from the US think tank Rand Corporation.
"China might be interested in patrolling in the waters near Indonesia as part of a broader effort to expand the operational range of Chinese submarines, including out to the Indian Ocean."
"China is sending submarines further than the South or East China seas – beyond the 'first island chain' into more distant deployments in the Indian Ocean, or against Australia in a manner that would enable the PLA Navy to either gather intelligence, support covert operations or conduct warfighting operations against an opponent," Davis said.
"A better understanding of the maritime undersea environment in critical chokepoints and maritime straits such as Sunda might enable them to be more effective in countering an opponent's submarine and mine-warfare forces."
China is widely recognised as an important developer of unmanned underwater vehicles with good quality platforms. While Chinese UUV technology lags behind the US right now, it is closing the gap.
at a parade in 2019 to mark the 70th anniversary of the founding of the People's Republic. The HSU-001 is comparable to the US Navy's UUV, the Orca. While it is slightly smaller and carries a lighter weapons payload, like the Orca it can travel long distances autonomously to collect environmental data and spy on enemy vessels.
A month after the parade, the Chinese developed Sea-Whale 2000 UUV finished its non-stop 37-day test run in the South China Sea over a distance of 2,011km (1,250 miles) that could help China extend the range of its activities in the South China Sea.
You may also like...