Istanbul soccer stadium blasts kill 15, wound 69: Turkish official
At least 13 people have been killed in two explosions outside a football stadium in Istanbul, it has been claimed.
At least one of the blasts was caused by a car bomb and targeted a riot police bus directly outside the Besiktas stadium, interior minister Suleyman Soylu said.
He later said it was believed that a suspected suicide bomber had struck Macka Park, next to the stadium, also known as the Vodafone Arena.
"Two bombings may have taken place according to our understanding: one outside the stadium… the other at Macka Park," Mr Soylu said.
"The explosion at Macka Park is believed to have been carried out by a suicide bomber."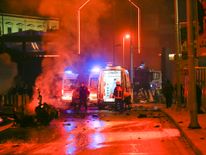 He described the attack as a "cruel plot".
A further suspicious package has been destroyed outside the stadium, TV channel NTV reported.
The interior ministry said initially at least 20 had been wounded but said it had no information of whether anyone had been killed.
Security sources later told Reuters that at least 13 had died and NTV said a total of 38 had been injured, without providing details of the number of dead.
Pictures from the scene also showed the shattered wreckage of a vehicle.
Other footage showed severely damaged police vehicles and fires, while witnesses said the force of the blast had smashed the windows of several homes nearby.
Police sealed the area, setting up a wide cordon around the stadium where a match between Besiktas and Bursaspor football clubs had ended more than an hour before.
Witnesses said gunfire was heard, but the reports remain unconfirmed.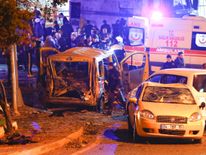 Mr Soylu told Turkey's state-run Anadolu Agency the car bomb hit at the point where special forces police were located, at the spot where Bursaspor fans exited, but after the fans had left.
Sports Minister Akif Cagatay Kilic said on Twitter: "I condemn the cruel terror attack in Istanbul. Those attacking our nation's unity and solidarity will never win."
President Erdogan confirmed there had been fatalities and injuries and said the blasts were aimed at police and civilians to target maximum casualties.
There was no immediate claim of responsibility for the attack.
Around 45 people were killed when three suspected Islamic State militants carried out an attack on Istanbul's Ataturk airport in June. Other bomb attacks have been claimed by Kurdish and far-left militant groups.
Source :
You may also like...