North Korea shines on a show for Chinese President Xi Jinping's state visit
250,000 people estimated to have taken part in welcoming events from airport to guest house
Xi says atmosphere made him feel like the two countries were 'one family'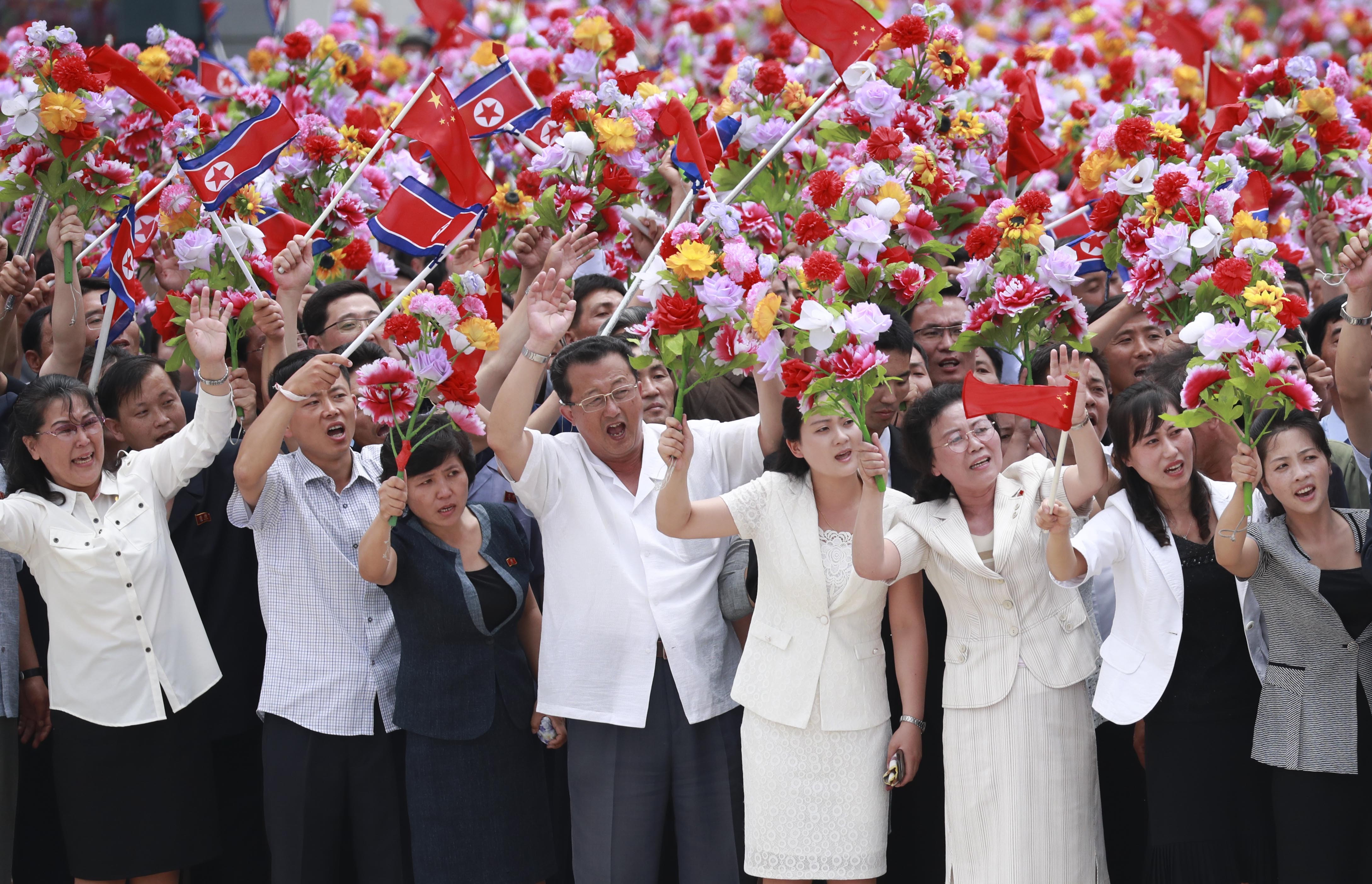 Hundreds of thousands of flag-waving citizens turned out to welcome Chinese President Xi Jinping as he arrived in Pyongyang on Thursday for a two-day state visit to North Korea.
Xi is making his first trip as president to the country, and its leader Kim Jong-un appeared to be taking no chances on ensuring him a warm welcome.
An estimated 250,000 people were mobilised to demonstrate their delight as Xi was driven through the streets of Pyongyang to a guest house in the grounds of the Kumsusan Palace of the Sun.
The palace complex also serves as a mausoleum for the country's late leaders, Kim Il-sung and Kim Jong-il.
Xi thanked Kim for the "solemn and warm" welcome he received.
"I can feel it in the atmosphere everywhere that China and North Korea are close, like one family," he said, according to China's state broadcaster CCTV.
Xi and his wife Peng Liyuan arrived at Pyongyang's Sunan International Airport about noon, greeted by Kim and his wife Ri Sol-ju, and a 21-gun salute.
Xi lands in North Korea for first visit by a Chinese leader in 14 years
The two leaders are expected to use the visit to cement ties amid their separate but rising tensions with the United States.
Xi's trip is the first by a Chinese president to North Korea since Hu Jintao crossed the border in 2005. It is also the first ever "state" visit since the two Communist nations established diplomatic ties in 1949.
CCTV dedicated 12 minutes in its main evening news programme to Xi's arrival in Pyongyang, including scenes of the huge portraits of the two leaders in golden frames on the tarmac as his plane touched down, and the 10,000 children and adults in colourful uniforms and traditional outfits, waving flowers and flags and chanting welcoming slogans.
Escorted by 21 motorcycles, Xi was then driven through Pyongyang's manicured streets in a black limousine, as huge crowds thronged to watch him pass while chanting "man sei" or "long live".
One huge red banner read seen along the route said: "Long live the unbreakable friendship and unity between the people of North Korea and China formed by blood."
Xi and Kim later stood side by side in an open-top car so they could wave to the crowds as they drove to the guest house.
When they arrived at the palace, tens of thousands of colourful balloons were released and tens of thousands of people in traditional dress performed a tightly choreographed dance.
Chinese state news agency Xinhua described the welcome ceremony as unprecedented for a foreign leader.
Xi and Peng were expected to attend a formal mass performance on Thursday evening, with the theme of the show expected to be the inseparable relationship of the two countries and their leaders.
You may also like...