Taiwanese major general at Indo-Pacific military talks
US releases photo of Taiwanese major general at Indo-Pacific military talks
Flag of Taiwan's Marine Corps also seen in pictures posted on social media by US Pacific Marines in another move likely to anger Beijing
While some Taipei lawmakers see the self-ruled island edging closer to Washington, analysts say they are not heading towards normalising ties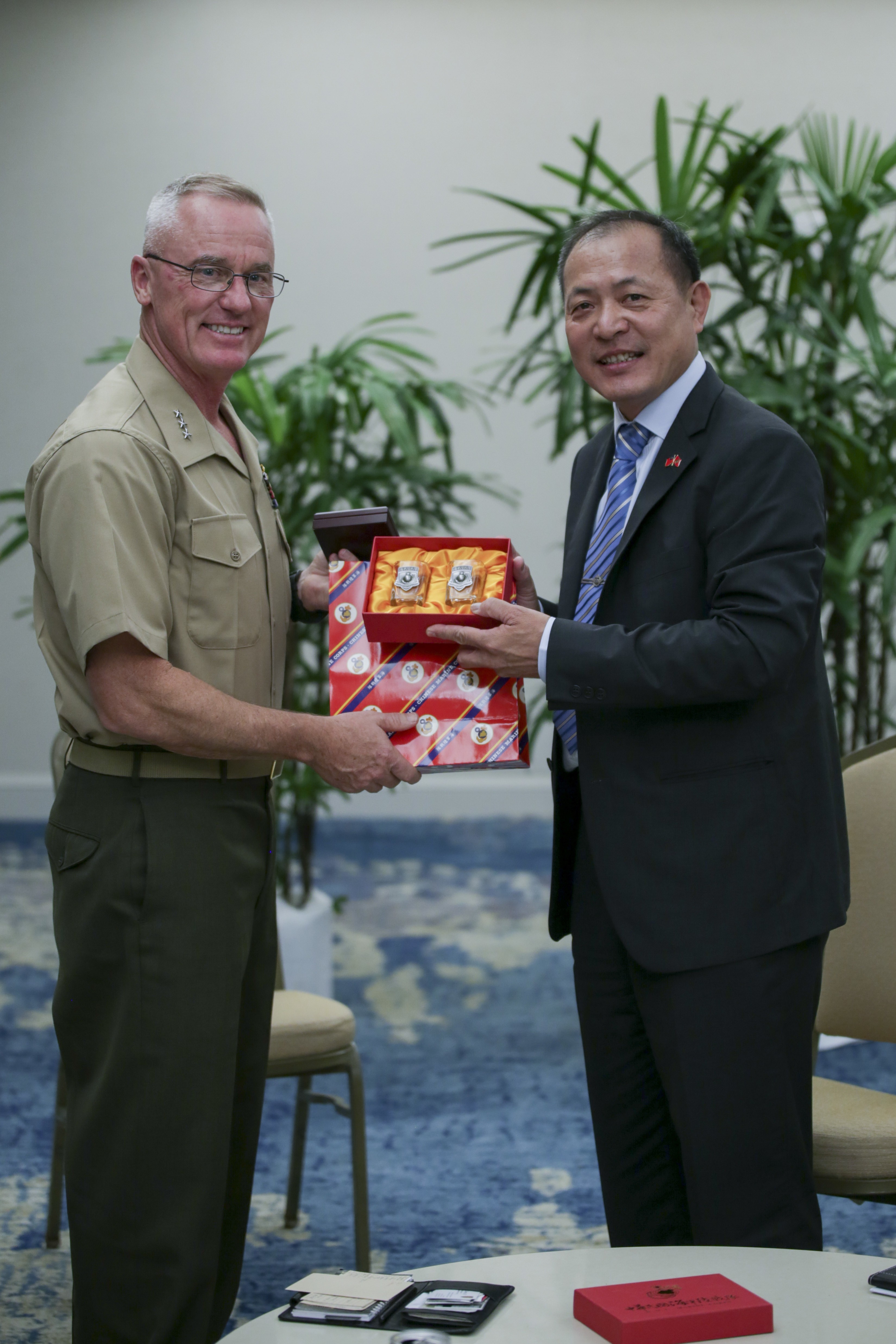 The US Pacific Marine Corps has released photos showing a Taiwanese major general and a flag with the island's emblem at an annual gathering of military leaders from the Indo-Pacific region, in another move certain to infuriate Beijing.
Major General Liu Erh-jung's attendance at the Pacific Amphibious Leaders Symposium last week was the latest in a series of moves that Taipei said demonstrated closer relations with Washington.
They include Taiwan being on a
in a US Department of Defence report on its Indo-Pacific strategy released on June 1. And two days earlier, the White House posted on Instagram a photo of US President Donald Trump congratulating US Air Force Academy graduates – with Taiwan's flag among those in the background.
In Taipei, some lawmakers said they were the latest signs that ties between Taipei and Washington were normalising. But analysts said that while the gestures showed relations were improving, they should not be seen as evidence Washington planned to normalise ties with the self-ruled island as it was highly unlikely the US would want to go that far.
Beijing sees Taiwan as a wayward province, to be reclaimed by force if necessary. It has warned Washington against recognising Taiwan as a country, and demanded that it follow the one-China policy and the three communiques that have been the foundation of its relationship since Washington switched diplomatic recognition from Taipei to Beijing in 1979.
Following last week's symposium in Honolulu, Hawaii, the US Pacific Marines posted an image on Twitter of Admiral Phil Davidson, head of the US Indo-Pacific Command, speaking at a podium with the flag of Taiwan's Marine Corps, and others, in the background.
Other photos showed Liu speaking to and exchanging gifts with senior US military officers.
It came after the Trump administration's move to list Taiwan as one of four "countries" in a section of its Indo-Pacific Strategy Report.
"As democracies in the Indo-Pacific, Singapore, Taiwan, New Zealand and Mongolia are reliable, capable, and natural partners of the United States," the report said.
"All four countries contribute to US missions around the world and are actively taking steps to uphold a free and open international order."
Five days later, Taipei confirmed the US had received the island's request for  $2 bn , including 108 M1A2 Abrams tanks as well as anti-tank and anti-aircraft munitions. If the deal goes through, it will be the fourth US weapons sale to Taiwan – in total worth US$4.25 billion – since Trump took office, according to local media.
Military and security ties between the US and Taiwan took a further step last month after Taiwan's national security chief David Lee met US national security adviser John Bolton in Washington. It was the 1st between senior US and Taiwanese security officials since formal diplomatic ties ended in 1979.
The meeting was confirmed by Taiwan's foreign ministry after it announced it had changed name  of its de facto embassy in the United States from the Coordination Council for North American Affairs to the Taiwan Council for US Affairs, saying it better reflected relations between the two sides.
Analysts said that while the US and Taiwan were edging closer, the latest moves should not be seen as progression towards normalising ties with the island.
"Taiwan's relations with the US have fared better under Trump because he sees Beijing as a military and economic threat," said Wang Kung-yi, a political science professor at Chinese Culture University in Taipei.
"But this does not mean the Trump administration would want to push this to the limit in order to normalise ties with Taiwan, as that could mean war for the two sides, given Beijing's warning that any foreign intervention in the mainland's domestic affairs would warrant an attack," he said.
Liu Bih-rong, a professor of political science at Soochow University in Taipei, said that in considering arms sales to the island, "the US aims to play the Taiwan card to pressure Beijing over its military expansion in the region". He said Washington was also using Taiwan in its ongoing tussle with Beijing over trade and technology.
Wang Kao-cheng, dean of the college of international affairs at Tamkang University in Taiwan, said Taipei should try to stay neutral to avoid further antagonising Beijing as "it would put Taiwan at risk if the mainland saw it as helping the US".
Beijing has suspended official exchanges with Taipei since Tsai Ing-wen, of the independence-leaning Democratic Progressive Party, was elected president in 2016 and refused to accept the one-China principle. As a result, the Tsai government has moved closer to the US, especially after Trump approved the Taiwan Travel Act to encourage high-level exchanges, and with the National Defence Authorisation Bill to facilitate arms sale review procedures and military exchanges.
Source :
You may also like...