ASEAN is a winner in a Trade war: Asia's winners and losers in US-China clash
The spoils of trade war: Asia's winners and losers in US-China clash
Meaghan Tobin and John Power
For Bangladeshi garment maker Viyellatex Group, the spiralling trade tensions between China and the United States that have roiled global markets have instead been a boon for business.
US tariffs have pushed up the cost of Chinese-made products so buyers have turned to the company, a leading producer in Bangladesh, the world's second-largest exporter of ready-made garments.
"Until recently much of our exports were to the European market, but since the
We are getting more and more bulk orders from US buyers," Viyellatex Group chairman David Hasanat said.
"Immediately after [US President Donald] Trump started the trade war last year, three American buyers who had folded their business in Bangladesh two years ago came and placed bulk orders with us."
Three out of every 10 clients Hasanat now serves are from the US, up from two in 10 last year – including top American brands Calvin Klein and Tommy Hilfiger. The company's turnover was close to US$200 million last year.
Like Bangladesh, other Asian economies that are home to low-cost manufacturing hubs such as Vietnam Thailand and Malaysia  are not in a state of panic, despite both superpowers announcing tit-for-tat tariffs on each other's goods that economists say will cripple global growth and hit exporting countries hard.
After Washington hiked tariffs from 10 to 25 per cent on US$200 billion worth of Chinese imports , to take effect in the coming weeks, Beijing on Monday announced US$60 billion worth of new duties  on US imports from June 1. According to almost all of the 14 analysts This Week in Asia spoke to, Asia's low-cost manufacturing hubs will continue benefiting as firms seek to move their production or supply chains out of amid rising business costs, despite the likely continuation of a region-wide decline in exports.
In a further blow to trade, Trump on Wednesday issued an executive order banning US firms from using technology  produced by any firms assessed to be a national security risk.
Huawei and its 70 affiliates have been added to an Entity List that would clear the way for a ban on the firm buying US components and technology. Photo: Reuters
Hours later,  Huawei and its 70 affiliates were added to an Entity List that would clear the way for a ban on the firm buying US components and technology, unless the sellers had government approval.
The curbs added another dimension to the US-China trade war, fanning fears in Beijing that Trump is seeking to control China's rise. Huawei had been targeted by the US government for some time, through pressures on its allies to not allow the Chinese telecoms firm to take part in the setting up of their superfast  5G  networks. Jakob Korslund, CEO of Deutsche Risk Group, said that firms across Asia would see the latest developments as a reminder of how business activities "are so tightly woven into the political context that is unfolding right now".  "That's something that is increasingly talked about in boardrooms and business circles. Sometimes I have this image in mind of elephants, when they are fighting it out, smashing a lot of things around them."
WHAT IT TAKES TO WIN
Some of Asean 's largest economies, experts say, have been laying the groundwork to benefit from the realignment of the global supply chains that the trade war is already contributing to – particularly Vietnam, Thailand and Malaysia.
Vietnam will see opportunities in furniture and apparel, Malaysia in liquefied natural gas, and Thailand in automobiles – with all three benefiting in the information technology equipment and electronics manufacturing sectors, according to data from this month's Asean+3 Regional Economic Outlook 2019 report (AMRO).
The combination of predictable regulatory environments, transport infrastructure, and ability to ramp up public spending leaves Vietnam, Thailand and Malaysia poised to receive the wave of investment the trade war is expected to bring, and to weather the region-wide decrease in exports in the process.
As the cost of production rises in China, it is adopting policies to encourage low-skilled manufacturing to move south.
The relocation is also part of the central government's effort to move the drivers of the nation's economic growth from production to consumption, experts say – a trend that has been accelerated by trade tensions with the US.
The trade war could knock a full percentage point off China's economic growth  this year, Wang Yang, one of seven members of the Politburo Standing Committee, said on Thursday – the first comments by a top policymaker about the impact of the trade dispute on the government's growth goals. Beijing had previously forecast 6-6.5 per cent growth for the year.
This had made Asean increasingly the driver of global economic growth, said Siwage Dharma Negara, senior fellow and coordinator of the Apec study centre at ISEAS-Yusof Ishak Institute in Singapore.
While the trade war has added fuel to the fire for growing Southeast Asian economies, only those which have laid the right groundwork will be able to take advantage of the opportunity it presents.
"The factor which limits the extent to which countries can benefit from the trade tensions is infrastructure," said Michael Taylor, chief credit officer for Asia at Moody's in Singapore, adding that Vietnam, Thailand and Malaysia had made major investments to that end.
The Asian Development Bank has estimated that developing economies in Asia will need US$1.7 trillion in infrastructure spending each year until 2030.
Companies hesitated to invest in costly new factories in times of uncertainty, said Jon Cowley, senior international trade lawyer at Baker McKenzie in Hong Kong.
"But if it seems the new tariffs might stick around for a while, more companies will be investing in new production capacity. Southeast Asia is in a prime position to benefit."
Until now, most of the shift has taken place in low-skill industries such as textiles, rather than high-skill sectors like IT, though some aspects of hi-tech value chains have begun relocating from China.
While seemingly fuelled by recent tensions between Washington and Beijing, many analysts see the shifting supply chains as part of a permanent realignment – and believe increased protectionism could even herald the collapse of the international trading system.
John Woods, chief investment officer for Asia-Pacific at Credit Suisse, said: "The die is cast now. More than likely, the trade protectionism we're seeing may be a long-term phenomenon."
The picture is not all rosy, though. Economists warn that the trade war could see China's demand for goods made in Asean decline, a phenomenon some firms are already witnessing.
Declining demand from China is one reason why countries that are projected to benefit from production relocation may still take a hit if the tariffs are implemented, somewhat dampening potential benefits.
 "Asian countries are large suppliers of parts and components to China, to be assembled into final export products, for which the final destination is often the US," Seung-Youn Oh, an assistant professor at Bryn Mawr College in Philadelphia, explained. "These countries thus indirectly face large negative impacts from the trade war."
Economists also warn that a weakening yuan  could make Chinese goods more competitively priced vis-a-vis those from Southeast Asia.
At Guangken Rubber in southern Thailand, a main source of business, Chinese tyre manufacturers, have cut back on their purchases in the wake of US tariffs.
"We have felt the impact of the trade war since last year," said Panida Ta-en, deputy marketing manager at the plant based in Satun province. "Our clients in China are mostly tyre manufacturers and we only export to China.
"We usually sent around 3,000-4,000 tonnes of processed rubber to China each month, but these past few months, we sent 2,500-3,000 tonnes."
VIETNAM
Perhaps more than any other economy, Vietnam – which expanded 7 per cent last year – has raced to position itself as a sanctuary for investors escaping the tensions between the world's two largest economies.
In January, Prime Minister Nguyen Xuan Phuc said his country was ready to "grab the opportunity" presented by the ongoing spat.
Tommy Wu at Oxford Economics in Hong Kong said: "Beyond the near term, Vietnam will likely be the main beneficiary of a supply chain shift, given its close proximity to China, low wages and favourable trade and foreign direct investment policies."
The nation's exports rose more than 12 per cent from just a year before during the second half of last year, according to data from HSBC.
Foreign investment into Vietnam this year rose 86.2 per cent to US$10.8 billion in the first quarter. Chinese investment made up nearly half of the total, according to Chinese state-run media.
Last month alone, exports from Vietnam to the US rose 29 per cent, while capital investments from overseas soared more than 200 per cent.
GoerTek – a major Chinese supplier to Apple – and massive Taiwanese tech firm Hon Hai Precision Industry Company, better known as Foxconn, are among prominent firms to have moved their production to Vietnam in recent months.
Clients of Vietnamese furniture company Xuan Hoa, which include global giant Ikea, have also redirected production from China to Vietnam in the wake of the tariffs. The company's chief executive told Bloomberg last month that at least 10 prospective clients had called from abroad already this year, and he expected sales to double in the next five years.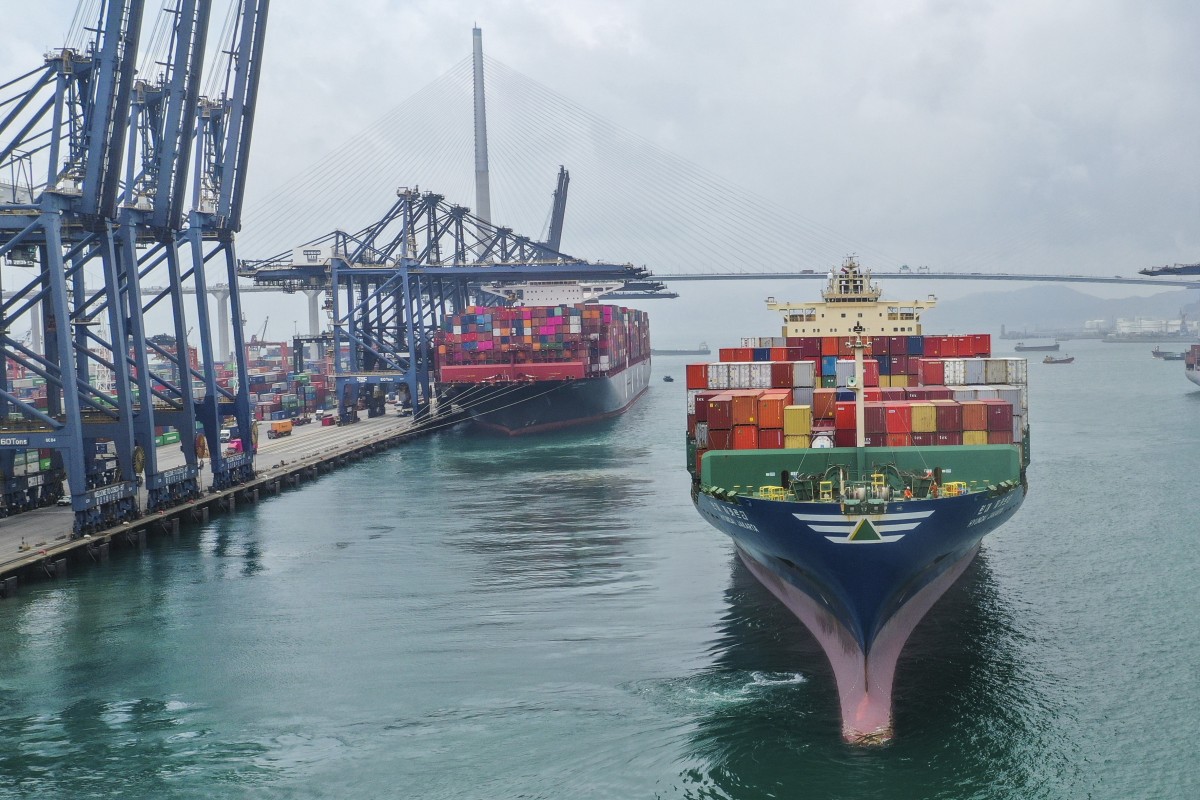 "Vietnam is one of the most open economies in Asia," said Kiran Nandra-Koehrer, specialist in emerging market economies at Pictet Asset Management.
Shifting supply chains from China would be part of an influx in foreign direct investment coming to Vietnam, suggested Nandra-Koehrer, especially in textile manufacturing and even consumer electronics.
MALAYSIA
Malaysia is also well-placed to attract supply chains relocating from China, especially in the tech sector, analysts suggest. Compared with its neighbours, average wages are higher in the nation, which has a per capita GDP of US$10,000.
Malaysia's biggest gains could come from liquefied natural gas, communication technology, and electronic integrated circuits, according to a report released late last year by Nomura Global Markets Research analysing the then 7,705 products on the tariff list.
Malaysian companies topping the report's list of trade war winners included Inari Amerton, Globetronics Technology, Petronas Chemicals Group and Mi Equipment Holdings.,
Wu of Oxford Economics said that the country stood to gain on the back of having relatively advanced infrastructure and a "business-friendly environment" already in place.
 "There's a renegotiating going on with the new government, but they still value much of what was decided by the last," said Siwage Dharma Negara at ISEAS. That, plus its higher-skilled labour force and growing technological capacity, could make it a good bet for hi-tech investment, he said.
However, analysts say the tech sector is risky. Already existing electronics value chains supplying China are exposed to risk if China's electronics sector takes a significant hit, warns the Asean AMRO Regional Economic Outlook released this month.
THAILAND
Thailand may also be able to capitalise on shifting supply chains, according to analysts, although its economy could take a hit in the short term.
In December, Thailand's Kasikorn Bank predicted that the country's "strong fundamentals and proximity to China" would see it reap the benefits of production relocation and foreign direct investment, particularly in electronic goods, integrated circuits and auto parts.
 "Almost 50 per cent of Thai exports to the US consist of machinery equipment and electrical products," said Sundi Aiyer, an independent management consultant in Singapore.
"This amount may go up even more. The automotive sector in Thailand may also see a boost as some auto manufacturers choose to move or increase their production and supply chain operations here."
Uncertainty due to the ongoing trade war and opaque political situation will negatively impact Thailand's growth, this month's AMRO regional economic outlook predicted, but the nation's strong domestic infrastructure investment will soften the impact.
MYANMAR, INDONESIA
Myanmar is likely to supply China the agricultural and food products the People's Republic has previously sourced from the US, especially cattle, fish and wood, according to Matteo Vidiri at Mekong Economics.
Reforms to local investment laws could also entice some manufacturers to relocate to the nation's special economic zones established in 2017.
Indonesia might not benefit as much as its neighbours, said Siwage at ISEAS. Discrepancies in business regulations between the national and local levels leave international investors leery.
THE DOWNSIDE
The big downside will be for trade-dependent Tiger economies.
There are fewer signs of a silver lining for economies that rely heavily on trade and transshipment, such as Singapore and Hong Kong, or for highly developed economies such as South Korea and Japan.
Taiwan-owned electronic equipment manufacturing firms in China will almost inevitably be affected.
"Taiwanese tech companies have a high proportion of China-based production," said Pictet Asset Management's Nandra-Koehrer. "We are already seeing this 'going home' shift, and it may only accelerate."
Taiwan's Foxconn last month said though it would be difficult to rival its plants in China, it planned to expand production into Vietnam as well as India.
The Tiger economies, touted for their massive economic growth spurts throughout the latter half of the 20th century, are likely to suffer the biggest fallout from the trade war. All have experienced recent economic slowdowns.
As well as being among the most export-dependent economies in Asia, their high-wage labour forces make them unlikely destinations for firms looking to relocate production out of China.
LOSERS, LOSERS, EVERYWHERE
But, ultimately, everyone will be a loser.
Though some economies in Southeast Asia might benefit in the short and even medium term, economists warn that a global shift towards trade protectionism is bad news in the long run for the global economy.
Even with the benefits of shifting production for certain countries, a continuous decline in exports worldwide risks precipitating a global economic slowdown.
"A key question is the extent to which we retain the rules-based trading regime that we have become accustomed to over the last 30 years, which has been extremely good for economies in Asia," said Michael Taylor at Moody's in Singapore.
The IMF has estimated that imposing tariffs on all Chinese goods – which Trump has repeatedly threatened – would shave 1.6 per cent off China's GDP and .09 per cent off of US output.
A sustained, full-scale trade war could depress global growth by 0.8 per cent next year, and keep it 0.4 per cent below its trend line over the long term, according to the fund.
Last month, the Asian Development Bank forecast regional growth would slow to 5.7 per cent this year, down from 5.9 per cent last year, citing the trade tensions as the biggest risk factor to economic expansion.
The regional development bank predicted an even weaker performance of 5.6 per cent for next year.
In an even more dire prediction this week, Morgan Stanley warned the global economy could slip into recession if Washington and Beijing continued to claw at each other's throats.
The US and China both reported weaker-than-expected retail sales and industrial production last month, even before the latest tariffs were announced.
Michael Plummer, trade economist at Washington DC's Johns Hopkins School of Advanced International Studies, said rising protectionism would ultimately be bad for Asia.
"The world has become much more integrated today than it was in the 1970s, and the damage can be much greater," he said.
Some are not convinced the impacts will be that far-reaching.
"It's going to be more of a short-term hit," said Woods at Credit Suisse. "There will definitely be an identifiable impact, and short-term dislocation for more developed economies, but they will adjust as they always do. Over the long term, the impact will diminish over time." ■
Additional reporting by Jitsiree Thongnoi and Subir Bhaumik
Source :
South China Morning Post
You may also like...